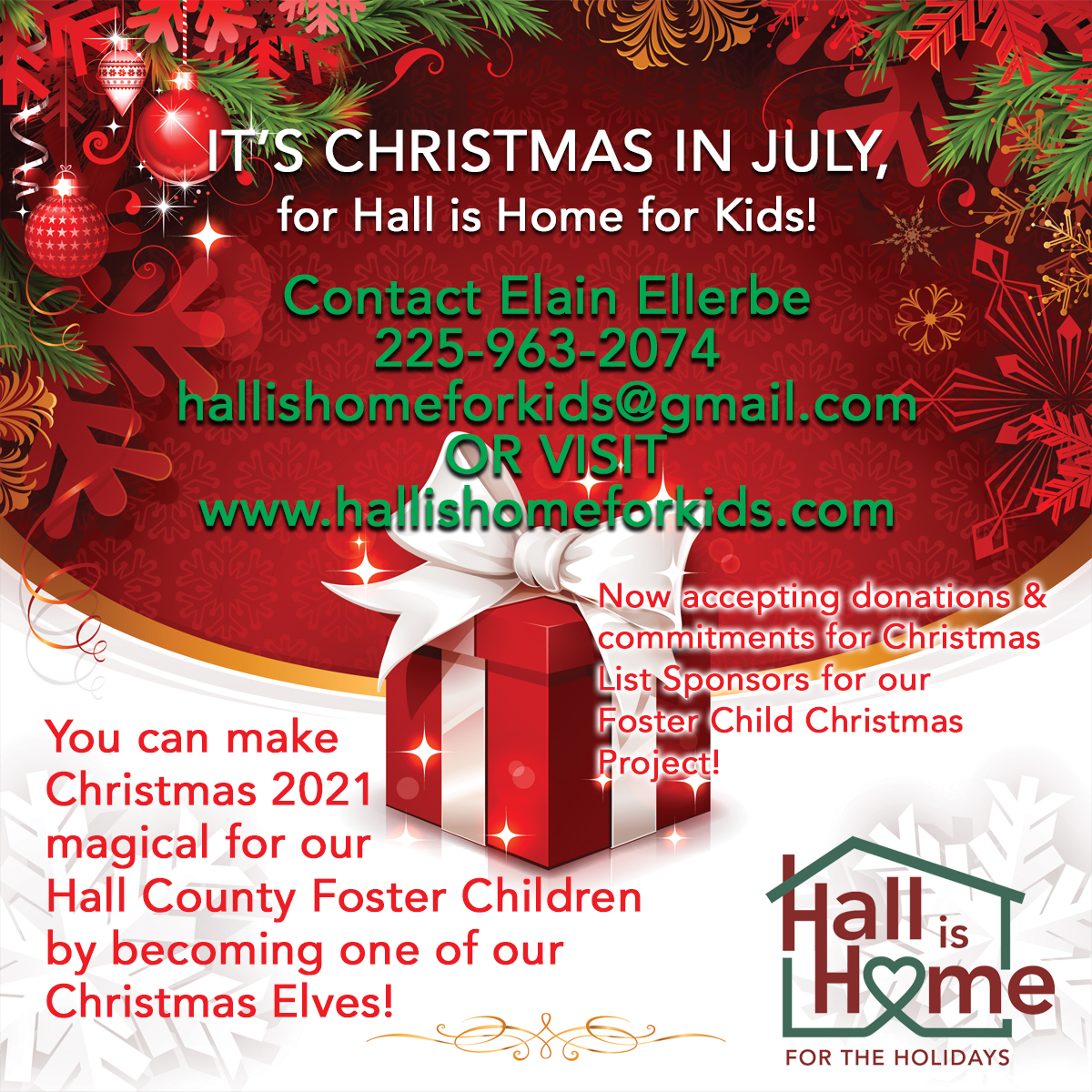 Hall is Home for the Holidays 2022 Project
We are beginning our planning for our 2022 event.  Please return on July 1 for our Christmas in July events!  Hall is Home for the Holidays is partnering with Beverly Ace Hardware to launch an exciting new holiday activity.  We continue to enlist the help of the community to enlist Christmas List sponsors for Hall County foster children and general donations for our Christmas Project for children and families impacted by the child welfare system in Hall County.  
Since our inaugural efforts in 2019, Hall is Home for Kids Holidays has provided Christmas gifts for over 2,000 foster children along with a first ever Christmas Celebration at the Gainesville Civic Center in 2019, hosting nearly 500 of Hall County's foster children and their amazing caretakers for a day of festive food, fun, and fellowship. We are once again in 2022 staging another Christmas Celebration for these wonderful caretaker families and the children in their care.  Additional information will be provided at a later date on this event and how sponsors can support these efforts and business owners can showcase their businesses while providing resources to a great cause.
This year, the needs remain the same and in some ways even greater.  We are looking to get commitments from individuals, businesses, community groups and churches to sponsor one or more children to cover the cost of their Christmas lists and provide gift cards for caretaker families.
If you are interested in becoming one of our Hall is Home for the Holidays Elves for Christmas 2022, please complete the form below and we will contact you with all options to support these efforts.  Our goal is to provide children Infant to 12 years with at least $125.00 in gifts from their own wish lists and for our teens, we are putting together gift boxes that will include a number of personal items and a gift card for at least $100.00 from a major retailer (such as Wal-Mart or Target).
These last two years have been and continue to be extremely challenging for us all especially those impacted by the child welfare system.  Fulfilling a Christmas wish list is one small way to support these wonderful families and help the children in their care have a very magical and Merry Christmas!!  Thank you for any contribution you can make to these vital efforts.
Remember to return on July 1, 2022 for new and exciting information.
If you would like to donate to Hall is Home for the Holidays, you can do so through Paypal or by Credit Card by using the link below. You can also donate via Cash App by searching for our cash tag $hallishomeforkids.
Please join us for our Christmas in July efforts for 2021.  We are asking for Christmas List Sponsors presently or financial donations.  To sign up as a List Sponsor or Financial Donor, send us a message by clicking on the Get a List Button if interested in participating or the Donate Button to make a cash donation now. 
If you have questions, please contact Hall is Home for Christmas project coordinator, Elain Ellerbe, at 225-963-2074.
OUR HISTORY
Hall is Home for Kids is an initiative of the nationally recognized Refined By Fire Ministries, Inc.  Founded in 1989 by Michael and Elain Ellerbe, the organization was incorporated in 1995 as a non-profit 501 (c)(3) organization with an initial mission to provide faith-based programming in adult and juvenile correctional facilities and assisting under-resourced populations.
Hall is Home for Kids for the Holidays was birthed in response to the growing needs of our local child welfare community, particularly those children in the custody of the Hall County Department of Family and Children Services. In addition, Hall is Home for the Holidays makes it a priority to mobilize community partners to meet the needs of the local foster care community and families impacted by the child welfare system.   Under the scope of the Hall is Home for the Holidays initiative, employees of the Hall County Department of Family and Children Services have worked cooperatively alongside other stakeholders in the child welfare system, including judges, Court Appointed Special Advocates, attorneys, foster parents, birth families, and other local private and public partners to work cooperatively to secure resources to improve the well-being of children in foster care.
While each of these organizations and individuals have worked tirelessly for many years to ensure that all children in the custody of Hall County DFCS have an abundant and joyful Christmas, these dedicated and committed groups banded together for our inaugural activities in 2019.  By streamlining and coordinating efforts, our foster and relative care communities will be better served in future years.
OUR GOAL
In 2019 and 2020, our efforts were very successful with Hall is Home for the Holidays providing Christmas gifts for over 1200 foster children and gift cards for their caretaker families to help with Holiday meals.  Hall is Home also hosted for the first time a celebration event in 2019 for all foster and relative caretakers and the children in their care. While we were not able to host a large public event in 2020, we are hoping to host another large event during 2021.  Funding is needed for this part of our efforts and we will make a final determination to hold the event again after our Christmas in July fund raising efforts.  We will proivde in 2021 Christmas wish lists for approximately 450 children and teens in the custody of Hall County DFCS, those in relative care served by DFCS and CASA, and many in the care of their biological parents who have worked hard to preserve and reunify their families.
©2019 Hall is Home for Kids.